MagazineSandrone – Le Vigne
Le Vigne - Traditions in their own creation
Luciano Sandrone is curious and eager to experiment, but he is also very aware of traditions. He combines the traditions of Barolo with Le Vigne, in which he continues the ancient and wise art of blending different vineyards. However, he gives these traditions his very own touch and does not blend the grapes directly during fermentation, but vinifies them separately and with the vineyard's own yeasts.
The four vineyards Baudana in Serralunga d'Alba, Villero in Castiglione Falletto, Vignane in Barolo and Merli in Novello reflect the characteristics of the Barolo area and its different altitudes and orientations.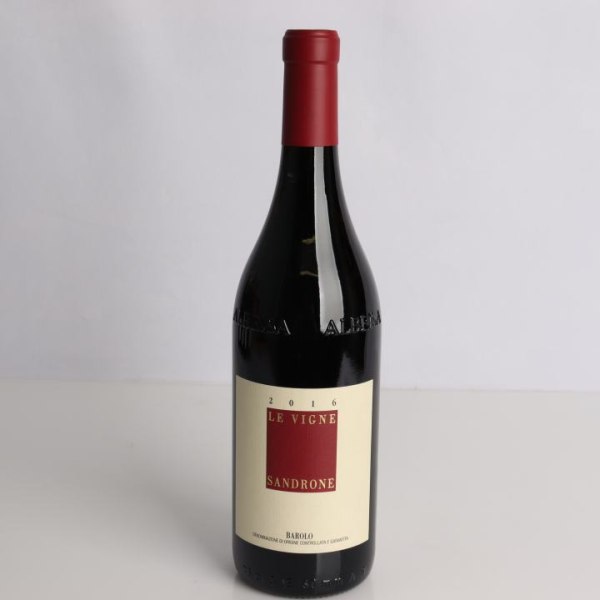 Le Vigne is classified as Barolo DOCG and accordingly consists of 100% Nebbiolo. The spontaneous fermentation with the grape's own yeasts takes place in open steel vats and the subsequent maturation in French oak barrels with a capacity of 500 litres. The wine then matures in the bottle for a further 18 months.
Wine year 2016: The spring was overall very cold and partly also very rainy and the summer very changeable. At the end of June there were the first warm spells, which alternated with thunderstorms that moderated the temperature. From mid-August onwards, the warm days arrived, but the nights were still cooler. The vegetative period was slow, which had a positive effect on the fertility of the vintage. The grapes were harvested in early to mid-October. The Le Vigne 2016 is still quite restrained, but gives a good indication of the potential of this wine. Aromas of dark cherry and liquorice dominate the nose, while rich fruit and a seemingly endless finish impress on the palate.
"The Luciano Sandrone 2016 Barolo Le Vigne is a stirring and profound expression that pulls on your heartstrings. I found it to be unforgettable, quite literally, inspiring one of those celebrated "wow" moments that we wine lovers so desperately seek in bottle after bottle." (WA July 2020 3rd week, 23.07.2020)
Maturity: 2028-2048; 100 Parker Points
As Nebbiolo wines only show their full potential after a long period of maturation, Le Vigne is also available with the Sibi et Paucis seal. (Learn more about it here)
The wine year 2007: Due to the mild winter, germination took place up to 20 days earlier than usual. In summer, temperatures never rose above average and rainfall was also average, resulting in particularly healthy development of the grape material. The 2007 Le Vigne Sibi et Paucis impresses with deep black fruits, which are strongly expressed in the bouquet. Overall, the wine is particularly balanced with velvety tannins and a long finish.
Maturity: 2011-2025; 99 Parker Points
Matching Lots
Overview magazine

All times are based on the Europe/Berlin time zone.