MagazineSandrone – Vite Talin
Vite Talin - 100 Points for the first vintage
While driving through his leased vineyards, Luciano noticed a vine that was different from the rest of the vineyard: lower yield, smaller berries, restrained vegetation. These characteristics, indicating the highest quality, aroused his interest and he began to study this vine more intensively in 1988. Luciano harvested the few grapes of this vine and his statement was confirmed: a lot of extract and an excellent acid balance.
"In this Barolo, it is clearly not so much the area as the grape itself that is expressed"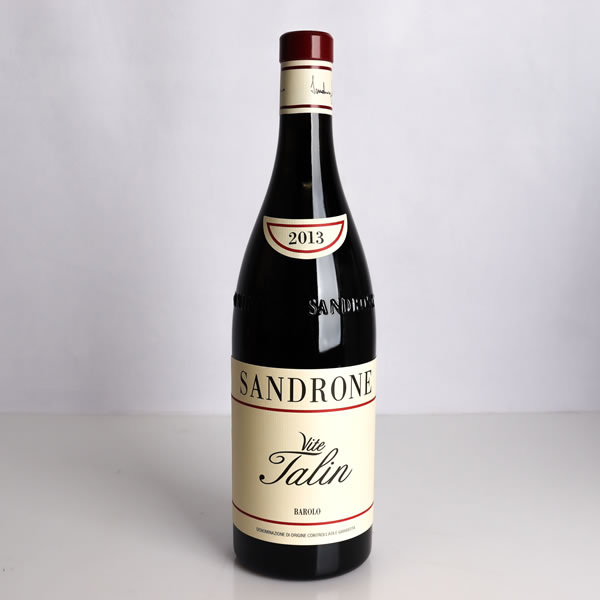 Early on, it was scientifically confirmed that this was a Nebbiolo vine and Luciano started grafting. He planted several young vines in two plots and after only a few years the characteristics of the mother plant became apparent. After DNA analyses were developed, he also had the certainty that this was indeed a very high quality Nebbiolo plant and thus a future Barolo. The 2013 vintage represents a turning point for the Sandrone family. The name Vite Talin is derived from the name of the former tenant Talin and the word Vite for vine.
"After 25 years of experimentation, the 2013 vintage marks the launch of the first Barolo Vite Talin"
After almost 30 years of research, the grapes are vinified separately for the first time. After the grapes have been destemmed, they ferment with natural yeasts in a vertical wooden vat and, after racking, they age for two years in French oak tonneaux. Of this, 50% is in new wood, resulting in the wine's complex tannin structure. The wine spends another year in a large wooden barrel before maturing in bottle for a further three years. A total of 6 years after the harvest, the Vite Talin is released and continues to age well with its lush and complex structure, as well as its tannic structure. Intense pure garnet red, fruity and floral aromas coupled with spice notes make this wine so exciting.
Or as Robert Parker (2018) says: "The wine opens to an intense, dark colour with extra pulp, power and structure in the mouth. The tannins are soft and rich (...) This wine takes us to the heart of Nebbiolo".
Matching Lots
Overview magazine

All times are based on the Europe/Berlin time zone.